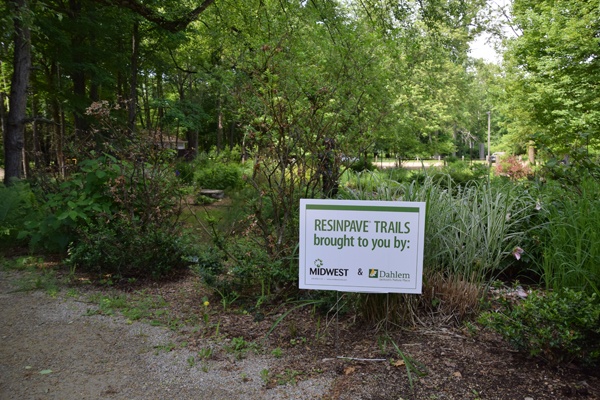 Paved surfaces are quite possibly the most prevalent human-made structures on the planet, and, as a result, the choice of what paving materials to use is a significant one.
While options abound, few take into consideration each substance's ecological impact. This is why Midwest Industrial Supply has designed a paving material that not only gives you a lower cost per foot, but also does so without harming the environment.
Some Paving Materials Can Harm The Environment
Paving materials present a hazard to both the environment and human health when they contain pollutants, which can escape and mix in with storm water runoff through the paving process, or even after the job is done. Asphalt is a particular concern, as it contains coal tar pitch, a recognized human carcinogen. 
Also, both well known for their attached health risks, arsenic and lead can be found in the glass beads used in pavement markings.
Gravel presents issues on a more practical level. A popular choice due to its affordability and easy installation, it is a true quick fix, as unimpeded weeds can overrun the surface in a hurry. Moreover, gravel often fails to provide stable footing–especially for those with limited mobility.
Midwest offers environmentally safe alternatives to these materials (among others, including concrete). A main benefit of using one of Midwest's natural paving systems, such as ResinPave®, is that it ensures environmentally sound and physically stable construction.
What is ResinPave?
ResinPave not only looks pleasantly natural, but is also much safer to use than the aforementioned options. For those with limited mobility, it has a slip-and skid-resistant surface with optimal flexibility. The hard-packed surface is ideal for wheelchairs, strollers, and walkers.
This versatile surface has a wide range of uses, including footpaths, driveways, parking lots, recreation areas, bike trails, and courtyards, just to name a few.
The beauty of ResinPave is that it is assembled with elements of Midwest's GreenPave® technology, and the exceptional quality of the product explains why Midwest–20 years after its introduction of the original natural paving system–continues to take the lead on environmentally friendly solutions.
Midwest understands the need for natural-looking surfaces, which is why they have developed a technology that delivers not only beautiful aesthetics that add color, texture, and pattern to your surface, but also remarkable durability and functionality.
The ResinPave System is easy to install and simple to maintain, and it's tough, resistant, and suitable for all weather conditions. Besides offering superior strength, it possesses a heat-reflective exterior that keeps the surface cool. Feel free to walk barefoot on a ResinPave path; we promise your feet won't get burnt!
ADA Approved
ResinPave meets ADAAG (Americans with Disabilities Act Accessibility Guidelines), providing convenient access for those in wheelchairs and mobility devices. It does so, for example, by ensuring that the surface between an accessible parking area and a trailhead is sufficiently firm and stable and has no uneven or overly steep sections.
Although these guidelines do not take environmental impact into account, Midwest does, developing a non-toxic surface formulation while never using hazardous, flammable, or corrosive materials.
What is GreenPave?
Midwest has developed GreenPave in its own lab, guaranteeing complete control over the quality of this singular product. The proprietary GreenPave base is a polymer-enhanced, resin-based organic emulsion, which is combined with an aggregate to create a structure that maximizes strength and extends the useful life of a surface.
How Nature Reserve Parks Can Benefit from Using Surfaces such as ResinPave
Unfortunately, there are currently very few parks with nature trails that accommodate wheelchairs, pushchairs, or people with walking difficulties. However, ResinPave's ecological benefits provide a clear solution to this problem. Everyone should have access to nature, and this surface promises to offer that for a long time to come.
The many benefits to using a surface like Midwest's ResinPave are clear: It's environmentally friendly; it doesn't look out of place in nature; and it has a smooth, strong, heat-reflective surface that everyone–including those with limited mobility–can enjoy.
Looks Matter
Whether you want your new natural surface to mimic and match what is already in place or make a unique statement of its own, the ResinPave system makes it easy. It affords design flexibility, architectural variations, and decorative appeal that will enhance the appearance of any surface.
Available in a wide variety of colors, patterns and textures that allow for a custom appearance, a ResinPave installation will complement the natural beauty and unique personality of the grounds that surround it.
The cool factor. The GreenPave family of products used in the ResinPave system produce light-colored, reflective surfaces that:
Reflect solar energy, keeping surface temperatures down and contributing far less to the heat island effect than dark, heat-absorbing surfaces
Help control peak energy demands, greenhouse gas emissions, and heat-related illness and mortality
Protect water quality by reducing storm water runoff and reducing the temperature of the water that does run off, which means less thermal shock to aquatic life
Enhance visibility at night, potentially reducing lighting requirements and saving both money and energy
Provide a cooler, more comfortable environment where people congregate or children play
Generate much less thermal conductivity than asphaltic surfaces, which means less heat is transmitted from the pavement into the coarser materials of the base
Installation–Getting the Job Done Right
Midwest binds existing or locally sourced aggregate that can be applied by hand or by a paving machine. The finished surface, available for use after a short curing process, can be striped and painted for parking lots or other applications. Midwest has decades of experience in design, soils testing, engineering, installation and post-installation performance testing.
Our skilled engineers and field staff are on hand from beginning to end to ensure that your newly paved surfaces will perform optimally.