The development of better safety protocols, including attention to dust control standards, has become a primary concern for many companies in the industrial world. Consideration for industrial dust control has played a crucial role in determining the safety of many industries, particularly mining, and has been a source of concern for federal agencies such as OSHA and MSHA over the past several years. At Midwest, safety is our first value, so setting and/or exceeding any safety standards is top priority.
In 2008, OSHA re-issued its Combustible Dust National Emphasis Program to maintain business compliance towards dust control standards at the federal level. Likewise, in 2014, the Mine Safety and Health Administration (MSHA) released a significant ruling concerning dust safety standards for miners to prevent black lung. The MSHA's directive introduced the three-year renewable Continuous Personal Dust Monitor (CPDM) certification to further improve the safety regulations around dust control standards. In a news release concerning the initiative, the MSHA outlined:
Increased sampling by mine operators
Use of new technology for real-time sampling results
Immediate corrective action when excessive dust levels are found
Determination of noncompliance based on a single MSHA sample
Reduced dust standards (MSHA, 2014)
The federal standards set by organizations like OSHA and MSHA are treated as minimums for those who fall under their jurisdiction. Agencies like ISN and Avetta can validate their adherence and offer their own certifications to bolster a company's safety culture, going beyond federal minimums set by agencies like OSHA and the MSHA.
Though setting safety regulations for dust control has become a growing resolution among many industries and federal agencies, for Midwest Industrial Supply, this level of safe dust control standards has always been essential to our mission.
For Midwest, our commitment to safety begins with the product itself. When we work with a customer, we evaluate their situation and form a specialized program to directly suit the needs of their surrounding environment, taking dust control standards down to a science. Beyond custom programming, Midwest's emphasis on safety continues in the science behind the product. Where other methods, such as watering, not only prove to be less effective, but they also leak dangerous chemicals into the environment. Our product is entirely environmentally friendly. It stabilizes onto its targeted surface and locks in, not only fulfilling its role in suppressing dust, but also in preventing chemical leaks from reaching employees, bystanders, or even from spreading into the environment.
Midwest prioritizes safe dust control standards through our "10 Rules to Live By: A Guide to Working Safety." The guide outlines company safety expectations for all employees that go beyond the compliance minimums established by OSHA and the EPA for industrial dust control. The standards include:
PPE Always: Personal Protective Equipment (PPE) is usually required for certain industrial worksites, and these sites are usually identified with proper signage. However, regardless of the job, Midwest requires always PPE be worn by employees for every job. PPE training is provided, and compliance is expected by all.
Regulatory Compliance: With the necessary training, personnel must comply with all applicable regulations from organizations like OSHA, MSHA, DOT, HAZCOM/HAZWOPER, and the EPA among others.
Customer Site Specific Safety Compliance: Not only are workers expected to follow Midwest safety standards, but they must also respect the customer's safety protocol while at their work sites, including Job Safety Assessments (JSAs), site surveys, background checks, drug and alcohol screens, PPE requirements, and any other client guidelines. Employees must also check-in with customer personnel before accessing a site. If a client does not have any additional safety standards, Midwest safety policies and procedures are still applied.
Fall Protection: Fall Protection Equipment, such as harnesses and rails, are required when working on site heights over 4 feet. Training for Fall Protection Equipment is required.
Up Down Awareness: When ascending and descending obstacles like stairs, ladders, inclines, semi-tractors, or even as they traverse uneven or slippery surfaces, employees must maintain three points of contact to ensure safe maneuverability.
Buckle-Up:, Midwest personnel are required to wear seat belts as they operate company vehicles and equipment. This standard affects drivers as well as all passengers.
Distracted Driving: Hands-free phones are required while operating industrial lifts and other equipment. Distracted driving is strictly prohibited while working on company business.
Lock Out Tag Out: When employees are working on electrical, hydraulic, pneumatic, or other equipment systems, they must be de-energized for safe maintenance. Those who have received special training for such procedures receive single keyed lock out/tag out devices.
Spill Prevention and Response: In the event of a spill, Midwest is equipped with proper containment procedures such as signs for transportation and storage, and clean-up supplies. Midwest also makes emergency response cards with a notification process and 1-800 number easily accessible to provide direction in the chance of an emergency.
Confined Space: Gas monitoring, permit acquisitions, as well as individual trainings are all conducted for employees prior to any level of confined space work to guarantee the utmost safety and security in tight environments.
At Midwest, these guidelines are not treated as recommendations, but responsibilities. Safety is a team effort, no matter your position, whether someone is an employee, supervisor, or manager, everyone shares equal accountability in adhering and modeling Midwest's safety standards.
Beside our product, Midwest prioritizes safe dust control standards through safety certifications beyond the compliance minimums established by OSHA and the EPA. Midwest demonstrates commitment to dust suppressant safety through third-party certifications. We describe some of these certifications in our previous article "The Safest Way to Road Dust Control," including:
Environmental Technology Verification Program
State Departments (Pennsylvania Department of Ecology, State of Washington Department of Ecology, and the West Virginia Department of Environmental Protection)
Federal Certifications (U.S. and Canada)
If you're interested, you can view more of our certifications for our commitment to dust control standards, like the United States Geological Survey, on our website under our Environmental Stewardship and Sustainability page.
Beside certifications, in 2021, Midwest was commended by MAC Casualty, Ltd. for our dust control standards. Midwest is currently a member of the National Safety Council (NSC).
"We want to provide our customers the highest quality product, which means the highest level of safety," says Midwest CEO, Bob Vitale. "Certifications are a testament to our commitment to our customers. Midwest goes above and beyond to surpass federal dust safety standards by fulfilling these third-party certifications so we can assure our consumers about the quality and reliability of our products. For Midwest, safety is a license to operate."
The proof behind Midwest's commitment to safety is in the numbers. Midwest's yearly numbers for recordable incident rates has consistently surpassed the national standard for the last twelve years. Looking at some recent statistics in 2020, Midwest stands at a recordable incident rate of 0.57, compared to a U.S. standard of 2.70. Comparing these rates, Midwest operates with around 79% less recordable incidents than the standard.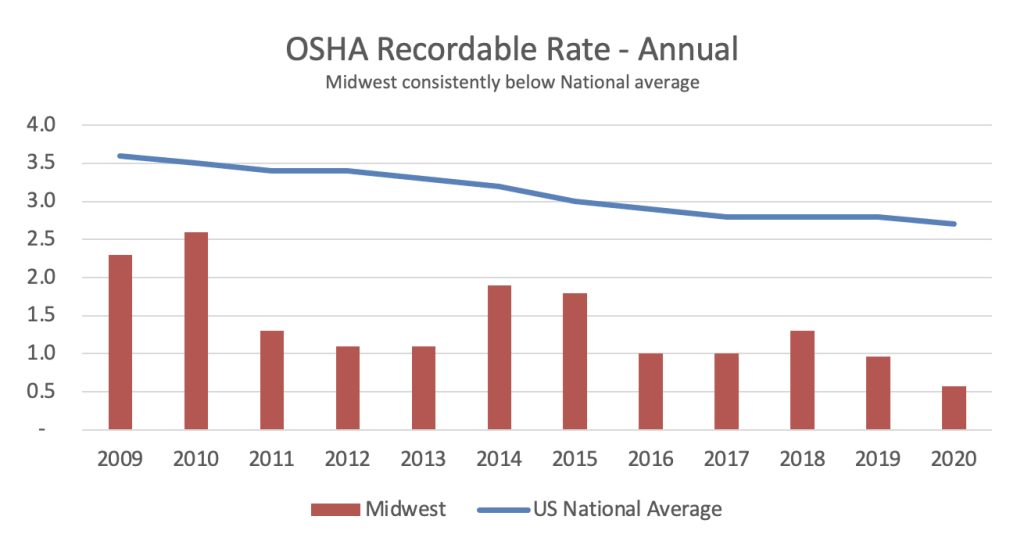 Yearly Rates for Recordable Incidents From 2009-2020
| | | |
| --- | --- | --- |
| Year | U.S. Standard | Midwest |
| 2009 | 3.60 | 2.30 |
| 2010 | 3.50 | 2.60 |
| 2011 | 3.40 | 1.30 |
| 2012 | 3.40 | 1.10 |
| 2013 | 3.30 | 1.10 |
| 2014 | 3.20 | 1.90 |
| 2015 | 3.00 | 1.80 |
| 2016 | 2.90 | 1.00 |
| 2017 | 2.80 | 1.00 |
| 2018 | 2.80 | 1.30 |
| 2019 | 2.80 | 0.96 |
| 2020 | 2.70 | 0.57 |
Our commitment to a strong safety culture within industrial dust control continues with other records like time without lost time accidents (LTAs). In 2009, the U.S. standard for time without LTAs was 176,731, which in comparison, Midwest rose beyond with a total of 770,274 hours. Fast forward to 2021, we've only improved our time, reaching 3,369,404, when the U.S. standard remains at 227,136. In looking at the 2021 data, Midwest shows 1,483% more hours than the U.S. standard.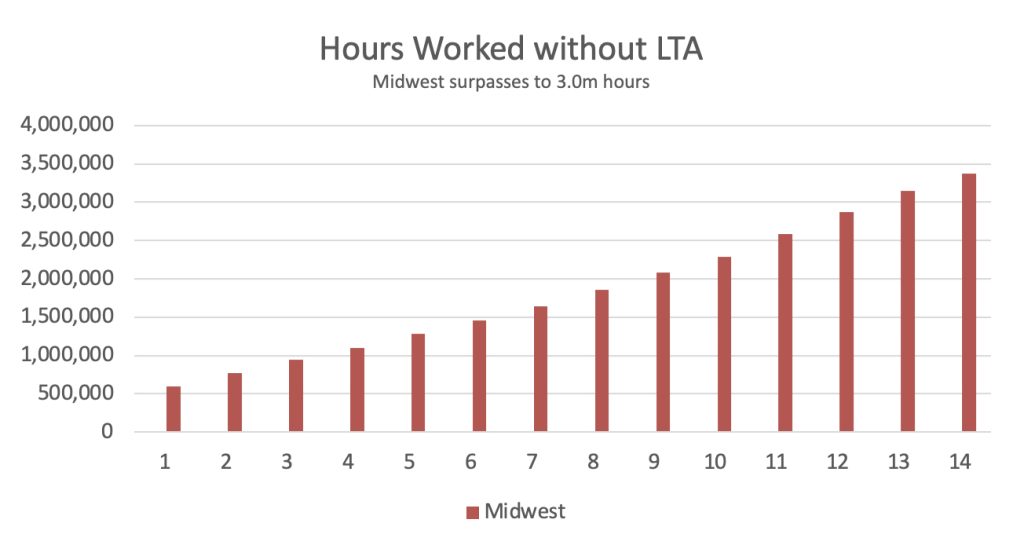 Loss Time Accidents (LTAs)
| | | |
| --- | --- | --- |
| Year | U.S. Standard | Midwest |
| 2009 | 176,731 | 770,274 |
| 2010 | 172,432 | 942,706 |
| 2011 | 150,800 | 1,093,506 |
| 2012 | 187,200 | 1,280,706 |
| 2013 | 171,195 | 1,451,901 |
| 2014 | 192,257 | 1,644,158 |
| 2015 | 216,528 | 1,860,686 |
| 2016 | 216,528 | 2,077,214 |
| 2017 | 214,240 | 2,291,454 |
| 2018 | 289,120 | 2,580,574 |
| 2019 | 291,408 | 2,871,982 |
| 2020 | 270,286 | 3,142,268 |
| 2021 | 227,136 | 3,369,404 |
Though safety has become a recent topic for many industrial businesses, it's clear that for Midwest, we've kept safety at the forefront of our mind for well over the last decade.
Midwest sets the standard in providing an effective solution to dust not just in its effective quality, but also in its equal adherence to employee and consumer safety. Midwest is not just committed to a singular job, but in going the extra mile to foster a lasting culture of safety.