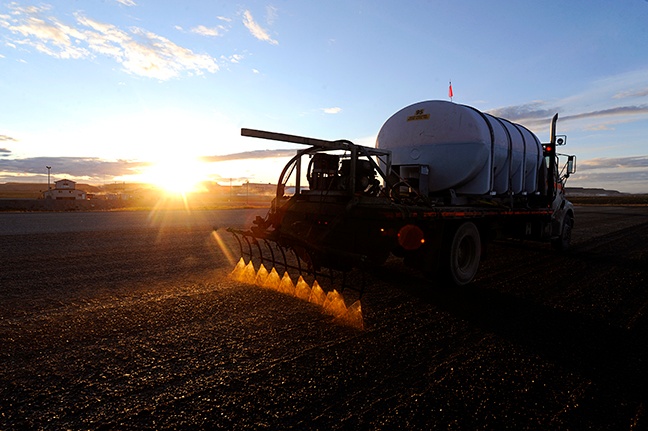 Not all dust control programs are created equal. Managed service programs offer clear goals, expert guidance, and predetermined budgets tailored to suit your site's specific needs.
Whether you're drilling for natural gas or paving a county road, an effective dust control program can protect employees and residents, vehicles and equipment, and the surrounding environment. Since every worksite has its own unique needs and specifications, however, no single product can solve every problem. Rather than rely on an inexpensive "one-size-fits-all" service that might erode or wear off in weeks, it's best to approach dust control by crafting a managed service program that offers constant guidance and customized application strategies for your specific site.
Here are three ways that a managed service program from Midwest Industrial Supply, Inc. will lead you to long-lasting and cost-effective dust control.
1) Create a Customized Program Based on Your Unique Needs
Many dust control providers design a similar — if not identical — program for every client, overlooking variables such as weather, traffic, and equipment size. In contrast, we at Midwest outline our managed service programs following detailed assessments of your site made both before and during product application. We also establish a fixed billing rate rather than sell in bulk, taking out many of the hidden costs that tend to crop up when application of a dust control product isn't meticulously planned.
Managed service programs tend to get better results because they actually consider each company's long-term requirements before initiating the application. How much dust control do you need? What kind of product will best address your site's specific dust problem? How much will you pay per square foot and on what billing cycle? A dust control program should be designed to hit these target results in the most cost-efficient way possible, rather than to apply a certain number of gallons of product or cover a certain amount of roadway or surface.
2) Offer More Than Just a Product
Effective dust control calls for more than a quick fix, which is why a managed service program includes expert guidance throughout the entire application process. Midwest distributes the product only after outlining preliminary objectives, assessing the site, and setting a reliable budget. We provide you with continued support even after the application process is complete, responding quickly and efficiently to help you work through any unexpected difficulties you encounter.
3) Guarantee Accountability Through Application
A responsible vendor holds itself accountable for the product's proper application. That's why Midwest works with you to determine what equipment, operators, and application strategy you'll need to accomplish your dust control objectives. Ensure that your vendor meets the goals and benchmarks that they mapped out at the outset of the program. If reapplication is necessary, you should be able to count on your managed service program to streamline the process.
The Midwest Difference
At Midwest, we've provided market-leading dust control solutions and managed application programs for over 40 years, supplying companies in major industries like precast concrete, coal, and oil and gas with durable, cost-effective, and environmentally friendly products.
As a managed service vendor, we work with you to develop an appropriate dust control program that maximizes productivity while accounting for your operation's specific needs. Our team of talented experts will guide you through every step of the process and ensure that you reach your dust control objectives as efficiently, effectively, and affordably as possible.